The show dates we presently have for John appear below. Please keep an eye on gig venues' web and social media pages for updates. John's latest book A Scarcity of Biscuit, which accompanies the current run of his show Biscuit of Destiny, is available from Caldew Press for £8.00 plus postage and packing. And woo-hoo, John is now on Spotify, where you can hear the Saint and Blurry album from deepest yesteryear. It can also be found on Youtube where you can leave comments and engage in discussion.

John is the subject of a new podcast entitled Wide-Eyed Creation: Crafting Your World, From Page to Stage with John Hegley, part of the Extraordinary Creatives series by Ceri Hand (opens in Facebook). John reflects on finding inspiration in everyday objects, overcoming challenges of fame, and the importance of mental well-being. Listen on Apple or on Spotify.
On Thu 7th December at 8.00pm, Utter! Lutonia will be marking the onset of Advent at the Hat Factory Arts Centre with a show full of pre-Christmas crackers and a wealth of local support.
On Thu 14th December at 8.00pm John will be entertaining the troops at one of the weekly sessions at Islington Folk Club. He'll do 2 sets of 35 minutes at 8.40pm and 9.50pm.
On Sat 16 December John chips in with a 7 minute slot under the benevolent eye of Robin Ince in Nine Lessons and Carols for Curious People at Kings Place in London N1.
Moving into next year, on Thu 11th January 2024 at 7.30pm John will be appearing at the Topic Folk Club in the Groove Pad Shipley Bradford. With support from Chris Manners.
Fri 9th February at 8.00pm sees Biscuit of Destiny at the Otley Courthouse.
Then on Tue 13th February at 7.30pm there's Love Songs and Poems and Animal Drawings at Wilton's Music Hall London E1.
On Sun 31st March Biscuit of Destiny is on the menu at Rhosygilwen Mansion in North Pembrokeshire. Details to follow.
John has a 30-40 minute slot at a Poetry Evening in Shrewsbury on Thu April 11th. Details will appear in due course on Facebook.
Reviews
'Family life would be a lot easier if you could just open the cupboard and pull out your Hegley every time things got fractious, heated or miserable'
The List
'Awesomely mundane'
The Independent
'Scandalously talented'
Sunday Times
'Bleeding marvellous'
NME
'Like a good deed in a naughty world'
Herts Advertiser
'Makes little sense'
Luton News
'Marvellous, joyful fun'
The Telegraph
'An incurable entertainer'
The Guardian



There's masses of interesting stuff about John's Islington connection in a blog called Islington Faces. Who knew that our man was once in a production of The Pajama Game directed by Simon Callow?
John's programme about his relationship with the French Baroque composer Jean-Philippe Rameau Who Does John Hegley Think He Is? can also be found here or via the app. It will be available until midnight on 31 December January 2098 so be sure to put that date in your diary to be certain you don't miss it.
JOHN HIGHLY RECOMMENDS this celebration of the poetry, prose and life of Sean Hughes, the much-loved comedian who died much too soon in 2017.
JOHN ALSO HIGHLY RECOMMENDS: Mel Brimfield's From This World, to That Which Is to Come exhibition, staged at The Tetley in Leeds in 2021, is still viewable online. Free, donations welcome. The show takes its title from John Bunyan's 1678 parable The Pilgrim's Progress, which describes a fictional pilgrimage from 'The City of Destruction' to 'The Celestial City'.



You can now keep track of John on Facebook - just click on the button. Note that this is a Community Facebook page and John isn't personally involved in it. Please don't use it to send him personal messages, use the email address on the Contact John page instead.
The winning entries can be viewed by clicking here.
Click here for John's thoughts on Morris Dancing in The Guardian's online comment pages......
A creature collection, in alphabetical order including the guillemot, the hamstar, the micetro, the wise camel,
'I am the one who bore
wiseman number four.
We are the ones who went North
when the others went west...'


And, Zoe:
Zoë, Zoë
you had to goë.
I felt so sad
I wrote this poë.

There's Trains. There's John Keats. There is Joan of Arc. There are trucks and boats and ship. With chips.
What's so funny about peace, love and understanding? With drawings largely by the author.
Find out more about the book.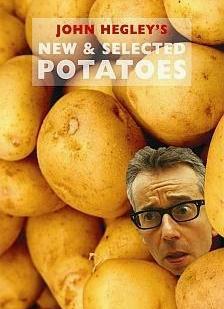 A greatest hits, best of golden oldies compilation (with some new stuff).
This new compilation shows the breadth of his appeal, with seriously funny, cleverly comic poems on everything from love, family, France, art and the sea to dogs, dads, gods, taxidermy, carrots, spectacles and - of course - potatoes.